CTF-EvilWalkers1 Map for Unreal Tournament 3
Download CTF-EvilWalkers1.Zip (21.1 Mb)
---
This is Doctor Evil's second attempt at a CTF map for Unreal Tournament 3. Like CTF-EvilTest1, the basic design is three big rooms with a flag base at each end. Two dark walkers have been added in each flag base, one locked for the defending team's use only, while the other is unlocked. Bots do take these behemoths up the ramps onto the gallery around the central plaza.
Some concession has been made to the usual twisted geometry so beloved by the degenerate Doctor. The tunnel is even more twisted than in the first map, to the point where bots rarely venture into it, despite the many goodies available in there.
In the central plaza there is a glass floor that allows one to spy down on the central section of the twisted tunnel.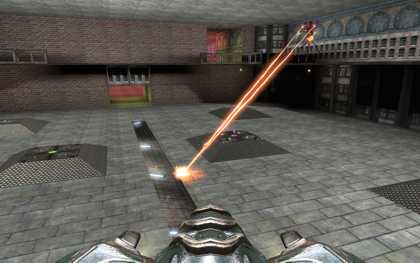 The music is "Dark City", shamelessly taken from the excellent movie of the same name.
The unmistakably colour-coded blue spawn chamber

---
Installation
Unzip the file CTF-EvilWalkers1.Zip and place all three files in

My Documents\My Games\Unreal Tournament 3\UTGame\Published\CookedPC\CustomMaps

If the directory doesn't exist, then you will have to create it manually.
---

"I surrender!" says Doctor Evil ...
Doctor Evil, Stardate 2008184.
You are visitor #

since 2008 07 01 according to
---
[Return to Dr. Evil's Home Page]

[Return to your previous page] Created 2008 07 01 and most recently modified 2014 09 14 by Doctor Evil.

---